AKE technologies is a manufacturer of fully automatic assembly lines for the production of
cell contacting systems
in e-mobility. Cell contact systems (CCS) are responsible for interconnecting the individual battery cells in electric vehicles. They differ in numerous features. Depending on the vehicle design and the requirements of the OEMs, there are different arrangements of the cells according to the space available in the vehicle, a parallel or series connection is possible. The cells are assembled into single or double modules and are suitable for use in hybrid vehicles (HEV / PHEV) as well as in purely electrically powered vehicles (BEV).
AKE's production systems offer an
intelligent production concept to cover a wide variety of component variants without setup processes
. Different cycle times can be implemented through scalable system concepts. Complete data acquisition and process monitoring takes place during production, which guarantees
100 percent traceability
.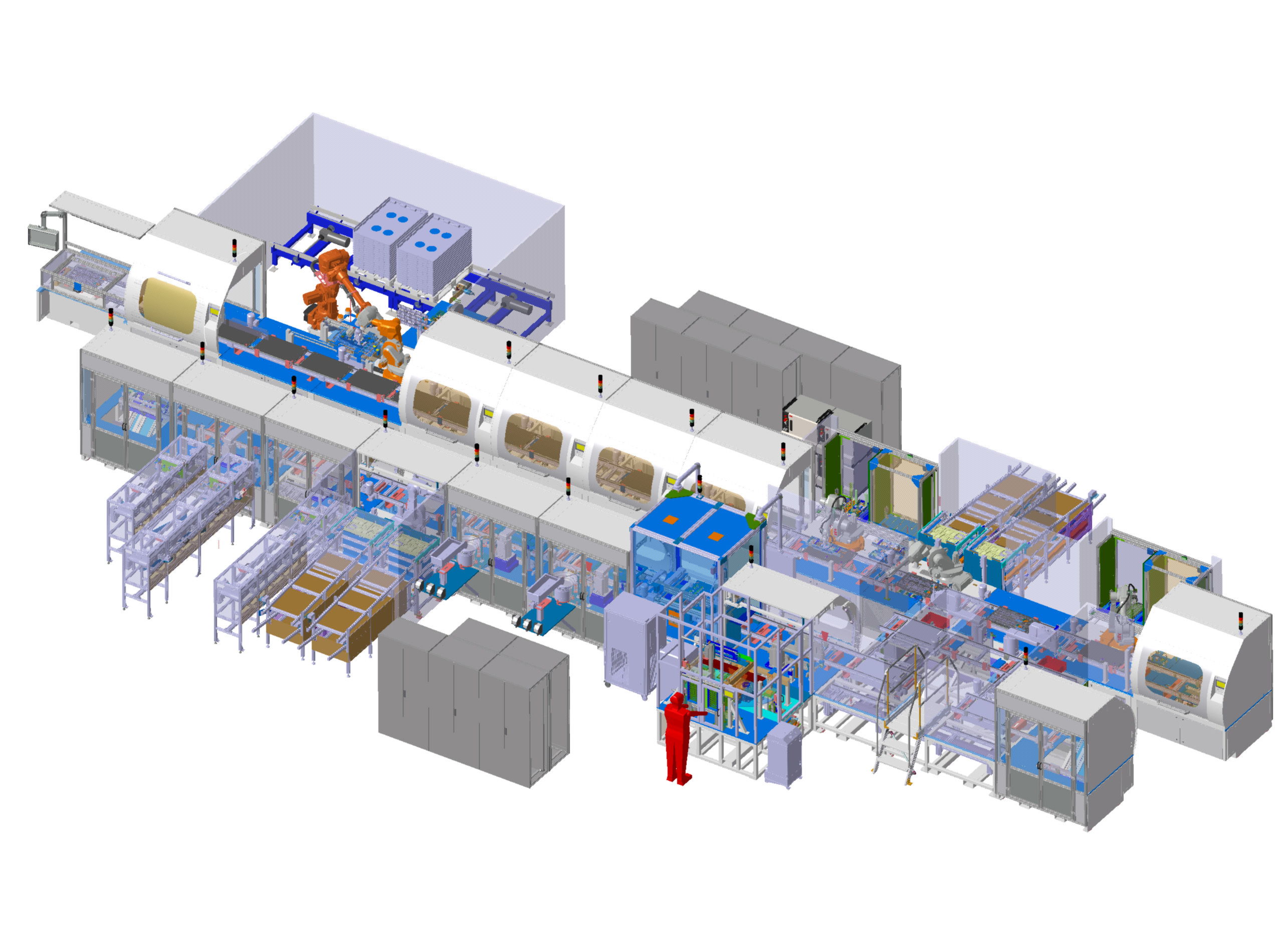 Image: Concept example of assembly system for cell connectors
In the following are examples of the processes that are integrated into our assembly systems for cell connectors:
Processes
1. Automatic feeding of various individual parts
Busbars
Power sensors
Temperature sensors
Housing and carrier parts
2. Component depending pre assembly of the busbars
Equipping taps and sensors
Assembling
Laser welding
Gluing
3. Mounting of the prepared busbars in the carrier parts
4. Ultrasonic welding and hot welding
5. Depending on requirements, combination with manual assembly stations (e.g. for cable assembly) or with rework stations
6. EOL testing
High Voltage isolation tests
Communication testing of the sensors
7. Component marking as DMX codes and text
8. Automatic packaging in customer containers
Scope of documentation
Batch numbers of the individual parts
Single part tracking of safety-relevant individual parts such as HV separations
Mounting forces and distances
Adhesive application parameters
Laser welding parameters
Camera measurement results
2D and 3D measurement results
Test results from electrical tests
General information about the produced part such as individual part number, production time, product variants, and much more.
---
Our World of Automation | Learn more about our values and about the passion for our automation solutions in the team AKE!




Learn also more about our further production lines in the field of e-mobility: