Assembly line for manual-automatic assembly and testing of power distribution systems
When designing assembly lines for Power Distribution Systems, the modular AKE standard cell is often used. Workpiece carrier systems, robotics and monitoring systems designed individually for our customers promise flexibility and individuality within the standard concept.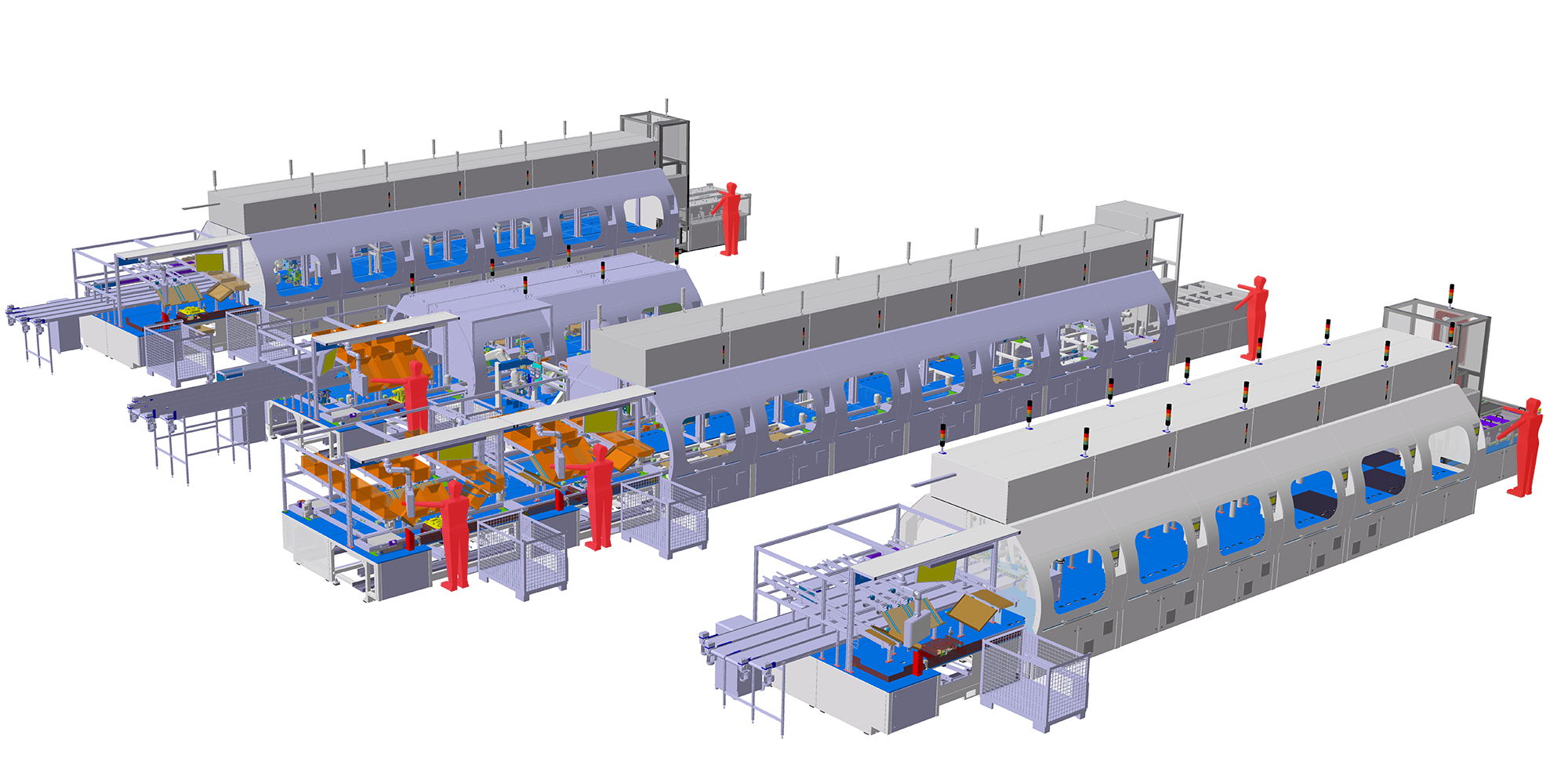 General information
Possibility to combine manual and automatic processing stations
Design as a fully automatic production line
Connection to upstream and downstream systems such as injection molding machines
Simple integration of additional processing stations in the event of changed specifications, quantities and component variants
Connection of the stations with conventional transport systems such as double belts, but also with innovative shuttle and linear drive systems
Complete data documentation and process monitoring
Possibility of integrating a central material station to reduce logistics routes
Processes
Automatic process examples
Feeding of various components (housing, fuses, washers, screws, nuts, ...)
Camera testings as incoming inspection of components (e.g. overmolding inspection of surfaces)
Screwing of attached parts
Clinching of electric components
Mounting of components with end position, maximum force or force-displacement monitoring
Hot welding and ultrasonic riveting processes
Insertion of pressure compensation elements
Laser transparent welding of plastic parts
Leakage tests
Mechanical EOL tests (e.g. actuation of mechanical assemblies)
Electrical EOL tests (e.g. continuity and function)
Optical 2D and 3D EOL tests (e.g. latching and measurements)
Component marking with labels, inkjet printers or laser systems
Automatic packaging of the produced components in customer packaging

Manual process examples
Assembly of individual parts
Packaging of the produced components
Assembly of connectors and cable assemblies
Scope of documentation


Batch numbers of the individual parts
Individual part tracing of safety-relevant individual parts such as electrical separator elements
Mounting forces and paths
Torque and angle of rotation values of the screwing processes
Camera images and results
2D and 3D measurement results
Test results from the EOL tests
General information on the component such as the individual part number, production time, product variants, and much more.
Our World of Automation | Learn more about our values and about the passion for our automation solutions in the team AKE!




Learn also more about our production lines for HV boxes: