The headquarters of the AKE Group is located in Passau, Lower Bavaria. Our assembly lines and system concepts are developed, designed and manufactured here.
In order to offer our international customers the best possible service, we have established branches in Romania, China and the USA. We also work with numerous sales and service partners in the United States, Europe and Asia.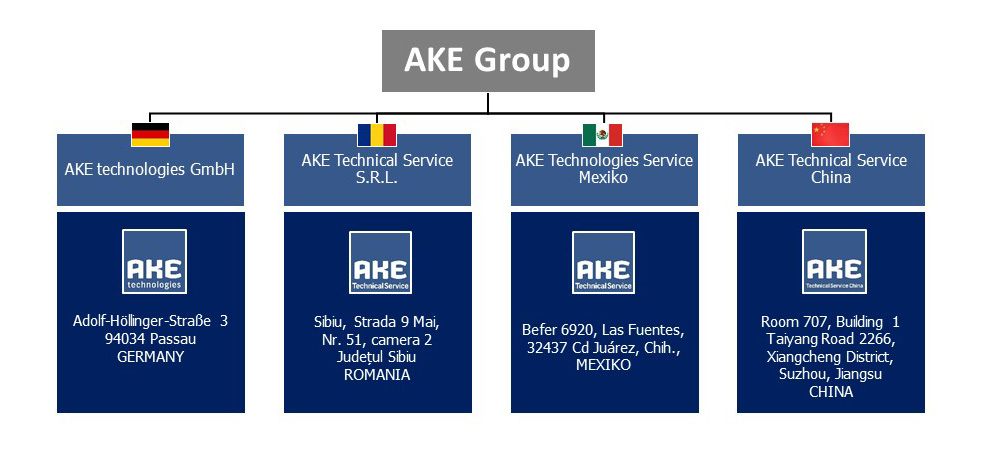 International service partners - Overview



G.U. Ltd.
507 Lordland EZ Tower, 153 Kumi-dong,
Bundang-gu, Seongnam-City, Gyeonggi-do
Südkorea

Dynawin Xiangzhi Industry
Room 707, Building 1
Taiyang Road 2266, Xiangcheng District, Suzhou, Jiangsu
China

IMV CORPORATION
2-6-10 Takejima Nishiyodogawaku
Osaka 5550011
Japan

Elektroautomatik
Kärrlyckegatan 20 B
418 78 Gothenburg
Schweden

ALAVA Ingenieros
Edificio Antalia. Albasanz 16
28037 Madrid
Spanien

ALAVA Ingenieros
Taguspark- Edifício Qualidade - Bloco B2, 1B
2740-120 Porto Salvo
Portugal



NOFFZ Technologies de Mexiko
S. de R.L. de C.V.
Av. Fray Pedro de Gante #6920
32439 Juárez, Chih
Mexiko
---

Our World of Automation | Learn more about our values and about the passion for our automation solutions in the team AKE!